Printing Your Own Labels

vs

Professional Printing
Posted By:
Technogeek
|
Updated On:
The first visual impression that customers get of your brand is usually through product labels. Consumer perception of labels has a direct impact on whether or not they will buy a product. A vital choice that depends on the stage of development of your business is whether to create product labels on your own or contract with a professional label printing service. Both alternatives can help you achieve your goals, but it's necessary to consider their pros and cons in order to determine which is ideal for you. This article covers whether you should print your own labels or hire a professional printing service.
When to Print Your Own Labels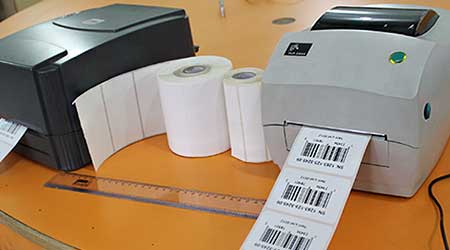 Printing your own labels is the best choice for small businesses that are just starting out to use product labels. One great approach to get started is to print one sheet of labels at a time. The majority of newly established small firms choose to use a regular color printer rather than an expensive label-specific model. Although printing supplies and equipment can be costly, they can still be economical for small-scale printing needs.
With self-printing, you can produce labels as you require them. As a result, you have control over the inventory and can easily keep an eye on your financial limits. Printing your own labels could be a more economical option if you sell seasonal goods in smaller numbers. But once you find that you require more labels frequently, it may be time to think about professional help.
Fundamentals to design and print your own labels
Understand your Product

Firstly, it is essential to realize that the label must work as designed for its application before you start working on the printing of your product label. For example, your labels should be extremely sticky and slightly waterproof, if you are printing them on bottled energy drinks. If not, there's a good probability that your product label wouldn't be able to withstand moisture or other types of damage for very long.

Select the Correct Label According to Product

It will be easier for you to select the ideal type of label for the job if you are aware of how your product will be implemented. There are numerous label kinds that you can print on your own goods, including thermal, semi-gloss, vellum, PVC, PET, etc. Each label is unique in terms of its qualities and fields of use.

Choose the Labeling Software

You will require proper labeling software to create and print your own barcode labels. There are numerous choices available, each with a different cost and level of performance. But, we provide you best DRPU Barcode Label Maker Software that helps you to create and print several kinds of barcode labels such as Aztec, UPCA, Codabar, PDF417, etc. with just a few mouse clicks.

Select a Suitable Label Printer

When you've finished with the design, make sure your labels work with the printer you want to use to print your personalized labels. Different materials will be needed for various printers. For this reason, it's crucial to make sure you get the appropriate printer for your materials as well as the appropriate materials for your printer.

Always Print a Sample

Before printing your labels, always check your label templates on a blank sheet of paper. This will allow you to quickly fix any problems with your design or printer without wasting any label sheets. By doing this, you can be confident that all of your labels will print perfectly without any issues that can result in waste.
Pros and Cons of Printing your Own Labels
Pros
Print the labels according to your requirement.
Ideal for new businesses with limited production.
It can be more economical for a small number of labels.
Prevents delays in order fulfillment and shipping that automatically improves productivity.
After printing just a few labels, it's possible to identify errors or make adjustments.
Cons
Lower or irregular print quality.
Your printer can only work with a limited number of materials and options.
Quality is usually lower than professional printing, and therefore might not be appropriate for long-lasting applications.
Due to the price of pre-coated materials and the inks used in desktop printers, unit costs are typically greater for longer runs.
It can be difficult and require specialized materials to create water- or weather-resistant labels.
When to Choose Professional Printing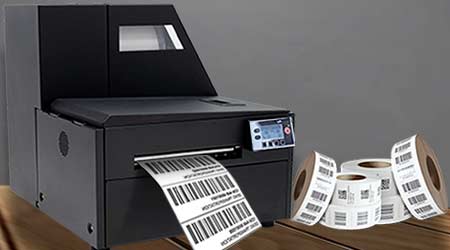 Consider using professionally printed labels if your company is expanding and you're having trouble managing the demand. You can be more confident that your labels will look fantastic and function properly if you hire a professional printing service. You can receive professional, knowledgeable advice that helps you select your label dimensions, layouts, and materials when you use a label printing service.
You aim to make a good first impression by using better-quality labels that maintain their brightness, stick, and effectively represent your brand logo and name since your product label is probably the initial thing your buyers will see. However, be sure to find out how long it takes them to respond. Few skilled label firms offer quick delivery in three to four days, but the rest contract their printing, so deliveries can take from two to four weeks.
There are some below points that clearly define when you should go for professional printing-
Brand Representation Failure

When you realize that your brand is no longer better represented by the labels you can create on your own, then at that time, this is the best choice. It's time to switch to professional printing when your labels' design or print quality doesn't match the level of your goods or services.

Running Out of Time

The rising amount of time you spend on label creation is another warning sign that you should switch to professional printing. It could not be the best use of your time to create your own labels when that time could be better utilized for planning and advertising initiatives.

Trouble in Getting the Necessary Label Material

A relatively high selection of label materials and finishes must be absent when printing product labels on your own. With the help of professional printing, upgrades your product labels with more durable materials or luxurious finishes and expand your business to a higher level.
Pros and Cons of Professional Printing
Pros
Professional printing services are less costly in the case of large quantities.
Use better-quality materials and a wider range of finish options to give each label a really unique and professional look.
The probability of any possible printing errors is extremely minimal because of the skills and experience of printing professionals over the years.
Give suggestions and opinions that are particularly suited to your company's needs.
Enable you and your staff to focus on the crucial elements of your company that will drive success.
Cons
A little bit longer waiting times.
Very small volume orders are not accepted due to the high minimum order amounts.
Cutters, print plates, and other initial one-time costs may be expensive.
For best-before dates and other essential information, overprinting may still be necessary.
You have very low control over the printing process.