Logistics Automation in E-Commerce
As the e-commerce business grows, logistics operations become complex and tedious. In this case, automation becomes the most essential thing for them. Online Retailers must automate their logistics process in order to make their workflow effective and boost sales. Automation tools make the processes simpler, save time or resources, and also allow businesses to take control of their logistics operations.
Logistics Automation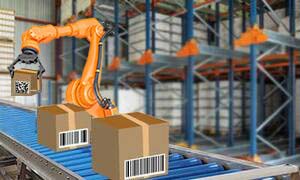 Logistics automation is a type of system that enhances the effectiveness of your company's logistical processes from purchasing to manufacturing, stock control, circulation, etc. with the help of computerized operations and automation technologies. It minimizes manual data entry tasks and delivers necessary information about confirmed items automatically.
The variety of operations involved in the supply chain is carried out in a warehouse or a distribution center that can be automated with very little human involvement. Logistics automation systems are considered a huge growth opportunity in business organizations.
Challenges Face by E-Business in Logistics
In e-business, business owners have to face various issues and challenges regarding logistics like-
Poor Balance between Online and Offline Activities

Finding a balance between rate of online and offline development is difficult for many e-commerce store owners. To match the speed of offline order fulfillment, they find it challenging to forge relationships with local delivery services or set up a network of nearby warehouse.

Problem in Courier Delivery Planning

Shipping delays and increased last-mile delivery costs occur from poorly planned courier deliveries. E-commerce store managers will feel more confident and contribute to the development of regular delivery practices if they are able to manage and organize delivery schedules.

Difficulty in Monitoring Logistics Operations

Monitoring the logistics operations is another issue that is faced by many local e-commerce enterprises. Additionally, it takes a very long time to set up smart tracking systems. For this reason, many local e-commerce companies continue to use their outdated systems.

Slow Delivery of Products

Nowadays, some internet users are unhappy with online deliveries. The two main factors that are responsible for this are slow delivery speed and higher cost. Many local e-commerce businesses cannot manage last-mile delivery on the same scale as multinational corporations.
How Shipping Automation can help your Online Retail Business
Shipping Automation can help to boost your online retail business in the following ways-
01

Sync Local Delivery Service

One of the key goals for e-commerce enterprises should be to select a service with the most dependable last-mile delivery procedures, reasonable charges, and qualified courier teams. Shipping automation facilitates the e-commerce companies to integrate with local shipping couriers, which speeds up the delivery processes.

02

Better Planning Deliveries

E-Commerce business owners have access to a wide range of factors through logistic automation, like traffic volume, climatic conditions, the nature of the item being transported, etc. This information enables businesses to plan the deliveries more effectively, which improves supply chain management and warehouse operations.

03

Performance Monitoring

Performance Monitoring helps to track the business's operations, give new opportunities to train staff, and prevent the company from fraud. Shipping Automation System helps the online retail business to collect and track statistics, evaluate the productivity of the delivery team, and monitor order fulfillment timing durations.
Benefits of Logistics Automation in E-Commerce
Real-Time Data Access

You can access and analyze load data in real-time with the help of logistics automation system. This enables your organization to manage its inventories and process invoices to ensure timely payment and also helps you in making the smarter and quick business decisions.

Speed and Scalability

Your logistics processes become faster and more scalable with the help of automation. This software can easily input data into the appropriate system and combine transport invoices into a single weekly or monthly invoice, irrespective of the number of shipments.

Organizational Control

Logistics Automation systems are versatile and can quickly evolve to meet the e-commerce business objectives of the organization. They are also capable of influencing both internal and external users to utilize logistical procedures that facilitate productive shipment.

Enhance Customer Service

Logistics Automation offers detailed tracking of the transportation of items from one location to another. This makes it possible for customers to get the most recent information on the status of their shipments and they have complete trust in your brand.
Why Should E-Business Invest in Automation Tools
There are some following points that describe why every online retail business should invest in automation tools
Automating Product Listing

Automation in a product listing can be beneficial to both customers as well as online retailers. Customers can be informed of a product's availability and allowed to make their purchase by automated notifications like "selling fast" or "only four left."

Whenever a new product is sold out, the system will recognize the effects of a sale and can alert the merchant of increased demand in that particular category so they can get ready and stock up. Automation can make the online retailers strategic and dynamic in their product listing.

Automating Order Process

Automation can reduce manual labor, human error chances, and repetitive processes by ensuring the successful fulfillment of orders that contain items from several warehouses.

Additionally, it has the capability to hold orders in cases where the nearby store lacks a certain item or is out of stock. Automation can monitor the order status and notify the clients about the changes that lower their frustration with unexpected delays.

Automating Shipment

The manual processes can consume a lot of time and effort in selecting, packing, and shopping the orders. E-Commerce business owners can simplify their shipment process with the help of automation.

It helps them to prepare shipping documentation, implement appropriate shipping rules and choose the best delivery vendor for a given order. With the use of automation tools, retailers ensure that their sales correspond to the inventory levels.