Business Barcodes for Warehousing Industry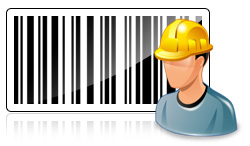 Using barcode system has greatly helped the manufacturing and warehouse sector to achieve success by improving the efficiency, quality and delivery in their business. Barcodes and barcode labels are used as tools in the effective and error free tracking of manufacturing inputs, raw materials, outputs etc, stored warehouse goods and various products identification for easy access when needed.

Business Barcodes for Warehousing Industry is specially designed with an easy to use, creative platform where users can customize their barcode features and settings to quality barcodes using any Linear and 2D barcode fonts. Barcode creator software uses barcode designing tools like Pencil, Text, Line, Picture, Arc, Ellipse etc to craft high resolution manufacturing standard or warehouse barcodes easily scanned and printed by all common barcode printers and scanners.
Software Features:
Barcode generator product works with support for all popular Linear and 2D barcode fonts.
Barcode label printing software produces readily printable and scan able manufacturing industry specific barcodes using any common barcode printers and scanner.
Flexible print settings of the software present various printing options.
Easily modifiable font and image settings aid to create good barcodes having personalized features.
Provides the opportunity to save the created barcode label in any of the major image file patterns including JPG, BMP, PNG, GIF, TIFF, EXIF etc.
Data Set series generating options helps to build bulk quantities of manufacturing or warehouse barcodes beneficial in manufacturing industries and warehouses.
Created barcode images can be easily copied and used in integration with all windows applications like MS-Word, MS-Paint etc.