Business Barcodes for Post Office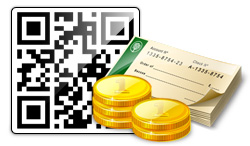 Integrated with a smart creative barcode maker platform, barcode label maker software is used in post offices and banks extensively, for various mail and parcel delivery services and for labeling banking documents in an organized manner respectively. Barcode generator software for post office and bank is specially designed to professionally create attractive postal barcodes or bank sector barcode labels, using any of the popularly used Linear and 2D barcode fonts. Bank bar coding system is developed with batch process that provides option to create bulk barcodes using random, constant value and sequential series generating techniques.
Using sophisticated barcode designing view facility included with barcode designing objects like Text, Pictures, Rectangle, Arc, etc, Business Barcodes for Post Office can build postal or bank barcodes, preferred by all post offices and banks for rapid postal services as well as accurate banking or billing operations. Barcode creator software offers easily changeable font and barcode image setting options which provide users with a helping hand to create desired barcodes and print them accordingly by aid of advance print facilities. Print preview functionality attached with the barcode software enables to view the print output sample before final printing. This prevents from any further printing errors.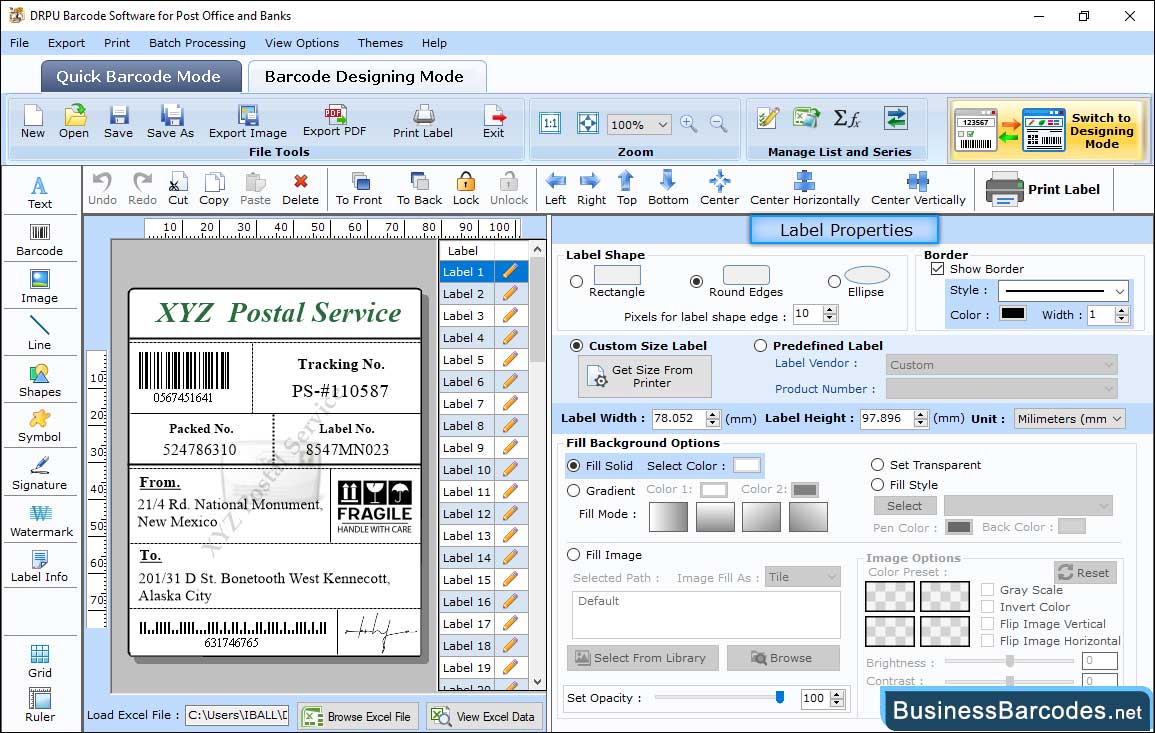 Business Barcodes for Post Office Features
Featured to create postal barcodes using major font standards.
Provides option to save the generated barcode label in any of the popularly used graphic file patterns like JPG, BMP, PNG, GIF, TIFF etc.
Barcode label printing software presents expertise printing functions along with print preview ability.
Easily adjustable font and image settings help to build postal or banking barcodes.
Design and create postal/bank barcode labels with texts, lines, pictures and other objects with advance designing view.
Sequential, Constant and Random series generating options helps to build multiple numbers of barcodes beneficial in all post offices as well as small to large sized banks.
Offers flexibility to easily copy the barcode image and use in integration with all windows applications like MS-Word, MS-paint etc.
Barcode label maker program provides data set series feature to generate bulk list of barcodes that are helpful to label postal services and banking industry documents.
Software Supported Fonts
Code 11 Barcode, Code 128 Barcode, Code 128 SET A Barcode, Code 128 SET B Barcode, Code 128 SET C Barcode, Code 39 Barcode, Code 93 Barcode, Code 39 Full ASCII Barcode, ITF-14 Barcode, LOGMARS Barcode, Planet Barcode, Postnet Barcode, USPS Tray Label Barcode, USPS Sack Label Barcode, USS-93 Barcode
MICR 2d Barcode, MaxiCode 2d Barcode