What do the numbers on barcodes mean?
A unique item number is represented by the numbers found below the vertical lines, or bars, of a 1D barcode. That number is visually represented by the barcode.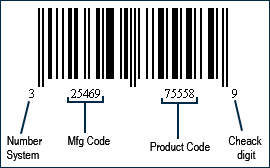 A different set of black and white bars is assigned to each number from 0 to 9. A Universal Product Code (UPC) system is used by many products. These codes match to a Global Trade Item Number and use a defined barcode symbol (GTIN). UPC barcodes are 12-digit numbers that correspond to a set of formatting criteria.
According to UPC barcodes, the first number of the barcode indicates which category a product falls under. For example, if the starting number of the barcode is 3, it is a health-related item; if the starting number of the barcode is 2, it is a weighed product like meat. The next ten digits will tell you the overall information of the company, like manufacturing code, product code, etc. The final digit is a check digit, which the computer uses to ensure that all of the other numbers in the code have been correctly scanned or entered.
One benefit of employing UPC codes for retailers is instant access to product information and pricing. Moreover, UPCs enable more complex inventory management systems and product tracking from manufacture through point of sale.
Are barcodes unique to each product?
If a barcode is not unique, other products may use the same exact code. This can cause major problems for your products because a retailer is likely to already have this exact number in their database. For example, if you sell three sizes of a shirt, you'll need three different bar codes. As a result, if one size starts selling faster than the others, the store can determine what needs to be restocked without having to perform a manual inventory count. If a shirt comes in three different colors and sizes, you'll need nine different bar codes.
The barcode cannot be reused until a second attempt or packet of earlier bar-coded goods is produced.
Short-term labor savings and potential cost savings are two reasons why retailers may be tempted to reuse barcodes. Instead of assigning products with individual barcodes, some businesses use barcodes as internal SKUs, grouping products into wider categories and providing a barcode that is repeated upon restocking.
The one and only method to separate products within large groups is for store employees to enter unique product data or refer to other documents, such as prices, sizes, or colors. The purpose of a barcode is to automate the checkout process by representing product data.
The underlying issue with recycling barcodes and employing a manual approach is the lack of sight of products and inventory. If retailers use barcodes correctly, each product may be tracked across all sales channels, store locations, and supply chain phases.
How do barcodes assist with the checkout procedure?
Product barcodes are quite useful for simplifying checkout. It eliminates the need to manually enter information such as price, quantity, and item code. This is not only faster for the customer and cashier, but it also eliminates human entry errors.
Barcodes can also be printed on receipts. Many POS systems can generate a barcode for a transaction that stores data about the transaction. The following information can be found on receipt barcodes:
Information on Receipt Barcodes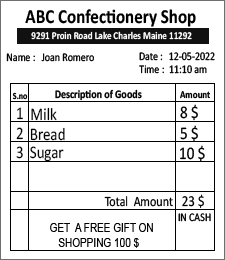 1.Date and time of purchase
2.Shop number
3.Register amount
4.Associate or staff title
5.Coupons or discounts utilized
6.Method of payment
Scanning a receipt and instantaneously accessing these facts speeds up the return or exchange cover a wide range. It will also assist in maintaining the thread of information that stores have about their products.
How do barcode scanners work for stock management?
The barcode scanner is used to read the code on a product. As the product moves around the warehouse, your inventory management software reads the code and begins tracking that specific barcode. Of course, it will come in handy when the employees have to pick the items and prepare them for shipping. It enables employees to locate the product on the shelves, and so on. Your inventory management software is updated when an employee scans that code. This makes keeping track of items easier. Barcodes can simply be used to implement complex stock management procedures like this. This inventory and stock tracking improves the efficiency of your firm. It also helps to speed up time-consuming activities like restocking, ordering, auditing, and more.
Can barcodes be used to look up products?
A product is identified and tagged by the barcode. The software you use to read and pull up the product record will display the information you've chosen to track once it's been scanned. This might be anything from price to color to size to just the item name and category.
The software that receives the binary coding scheme will pull up whatever data is connected with the barcode, depending on the type of barcode, custom or UPC. It's entirely up to you how much information about a product you store in your POS or online database.
Are barcodes and QR codes the exact same thing?
No barcodes and QR codes are not the same thing although they both serve the basic purpose of storing information about a particular product or organization but they are some major difference between them
Linear barcodes, also known as one-dimensional (1D) barcodes, use parallel lines of variable lengths that may be read by barcode scanners. Read more
2D barcodes, also known as two-dimensional barcodes, are more complicated and encode data in two-dimensional square or rectangle patterns. Read more
What's the difference between SKUs and barcodes?
Barcode
Barcodes are machine-readable numerical, alpha-numeric, or two-dimensional codes that contain product information. Barcodes are frequently used to assist in item identification, which helps organizations in improving inventory management. A barcode can be derived from two sources, depending on its application. To begin, a barcode could be created using a Universal Product Code. A Universal Product Code (UPC) is a set of numbers that are regulated and assigned to a specific product in order to ensure that the barcode assigned to it is universally unique.
SKU
SKU stands for Stock Keeping Unit. It is a unique name or set of numbers assigned to a product to identify the price and other product-related information. When it comes to products, SKUs are unique to prevent disorganization within the system and the user of the system. Your organization's naming convention is defined by SKU. This means that the SKU for product A in your company may differ from the SKU used by retailers who store and sell the manufactured or distributed product.
How to create and print barcode label?
Barcode labels are machine-readable symbols that represent product codes such as UPCs and SKUs. Barcodes are used to identify and track inventory as well as to utilising product sales. Making and implementing a barcode system will allow you to access product details, view your inventory on hand, and speed up your checkout process with the click of a few buttons.
You can get more information about creating and printing barcode labels by clicking the "Read more"link.