Resolve issue related to Barcode Printer
If you have issues or questions about your barcode printer, you can try the following:
Check the user manual

The user manual that came with your barcode printer will have troubleshooting steps and answers to frequently asked questions.

Contact the manufacturer's customer support

Most barcode printer manufacturers have customer support departments that can help you with technical issues and questions. They may have a hotline, email support, or chat support available.

Check the manufacturer's website

Check the manufacturer's website: The manufacturer's website may have a support section where you can find answers to frequently asked questions, software downloads, and drivers for your barcode printer.

Consult online forums

There are many online forums where people discuss barcode printer issues and solutions. You can search for forums related to your specific barcode printer model or brand and see if there are any solutions to your issue.

Hire a barcode printer technician

If you're unable to resolve the issue with the above options, you may need to hire a barcode printer technician. You can search for local technicians who specialize in barcode printers and can provide on-site support.
Troubleshoot Issues With Barcode Printer
If you are experiencing issues with your barcode printer, here are some troubleshooting tips to consider:

Check For Hardware Issues: Ensure that the printer is plugged in and turned on, and there are no hardware issues like paper jams or low ink levels. Also check all cables are connected properly.

Verify Connectivity: Make sure the printer is properly connected to your computer or network. If using a network printer, ensure that the printer is connected to the network and has a valid IP address.

Verify Software Compatibility: Check that your barcode printing software is fully compatible with your printer type or model, and the correct printer driver is installed in your computer system.

Verify Barcode Data: Verify that the barcode data or information you are trying to print through barcode printer is accurate and formatted correctly.

Check Printer Settings: Ensure that the barcode printer is set up correctly, including paper size, paper quantity, print quality, and barcode font symbology.

Clean The Printer: Dirt, and dust can interfere with the printer's performance, so regularly clean the barcode printer to ensure it is functioning optimally.
➔ Run a test print to check for any issues with print quality or alignment.
➔ Check the printer status and error messages to troubleshoot any issues, such as low ink or label jams.
If none of these troubleshooting steps resolve the issue, you may need to seek assistance from the manufacturer's customer support or a technical expert.
Maintaining Barcode Printer
Here are some tips for maintaining and troubleshooting your barcode printer:
Perform regular maintenance tasks, such as calibrating the printer, cleaning the sensors, checking and adjusting label.

Replace the print head and platen roller as recommended by the manufacturer or when they show signs of wear or damage.

Clean the printer's print head regularly with a clean, soft, lint-free cloth and isopropyl alcohol to remove any dirt, debris or residue.

Use high-quality label stock to ensure the consistent and best label quality and to avoid damaging the print head.

Keep the barcode printer in a clean, hygienic, dry environment away from dirt, dust, debris, and also direct sunlight.
By properly maintaining and troubleshooting your barcode printer, you can ensure it operates efficiently and produces high-quality labels, which is essential for accurate inventory tracking and management.
Loading Media into a Barcode Printer
Loading media into a barcode printer can vary depending on the type of printer you have, but here are some general steps to follow: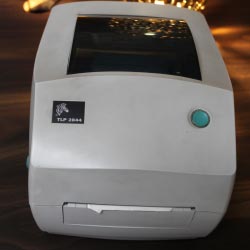 Turn off the printer and open the printer cover or door to access the media compartment.

Identify the media sensor and adjust it according to the type of media you are using. Some printers have an auto-sensing feature that will detect the media type automatically.

If using labels, insert the label roll into the media compartment with the labels facing up and the adhesive side facing down. Align the labels so that they are centred on the media guide.

If using thermal transfer ribbon, make sure it is properly installed in the ribbon holder and threaded through the print head.

Adjust the media guides to ensure that the media is properly aligned and that there is no slack or wrinkles in the media.

Close the printer cover or door and turn on the printer.

Test the media by printing a sample label or barcode to ensure that it is properly loaded and aligned.
It's important to follow the manufacturer's instructions for loading media into your specific barcode printer, as some printers may have unique features or requirements. Additionally, be sure to use high-quality media that is compatible with your printer to ensure consistent label quality and to avoid damaging the print head.