What are some trends regarding labeling that you think will continue into 2022?
Many organizations are carefully looking at 2022 as a break-out year. You must keep an eye on what's going on in the market to keep your company and products looking great! You understand the significance of the label when it comes to developing interest in your goods. Label design serves the same purpose for a product as a book cover.
With the help of these labels, you can grab the customer's attention, develop their interest, and then convince them to buy the product. A stylish label design distinguishes your product from competitors and helps people remember your brand. Trends in the design sector are inconsistent. Some of them remain around for years, while others vanish from the industries completely.
It is the process of applying a label to the goods and commodities to enhance the product identification and offers essential details regarding them such as ingredients, nutritional information, usage instructions, etc. This information makes customers feel fortunate while identifying and purchasing what they want. It not only assists in judgment calls but also contributes to the growth of trustworthy brand identity in the marketplace.
Labels are an element of the packaging of the products. Some product labels are linked to their packages, some are placed directly on the product and some require extra-label tags.
Labeling plays a very important role in many application areas such as retail markets, warehouses, healthcare, post offices, etc. Proper labeling can minimize the time spent in selecting and improve product tracking performance.
They help in identifying and distinguishing the products from the rest of the market's racks. Here are some of the reasons that describe why are the labeling is important from the seller's point of view-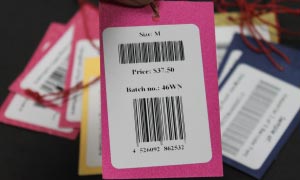 It is very beneficial in increasing the sales and productivity of the business organization.
It is used to label products that attract a wide range of potential buyers across the world.
It facilitates the smart use of marketing initiatives, resulting in a rise in the number of consumers.
It enables customers to obtain accurate product information and choose it accordingly.
Labeling Mistakes to Avoid
Labeling is essential to a company's performance. It makes no difference how great a product looks or how much marketing you apply to your branding. You're setting your organization up for a major problem if your fundamental labeling isn't done correctly. For many entrepreneurs, branding has always been the secret to success. As a result, they are always thinking about their marketing tactics, particularly in terms of packaging and product labeling. Below are some common labeling mistakes that should be avoided in your business:

Spelling Mistakes
Once you designed your barcodes, you'll want to double-check for any inaccuracies and spelling issues. This can save your time, and resource as well as a business organization.

Blurry Images
The images you selected for your product labels are quite important. The key aspect is your product will be better if your photo is original, accurate, and clear.

Avoid Duplicity
Originality is one of the important factors in labeling. Rather than duplicating or using a stock picture, create a fresh and unique design with high-quality visual images.

Materials
It is very important to select the right materials for barcode labels. Choose them carefully if your labels will be subjected to heat, moist situations, or freezing temperatures.
Labeling Trends That We Think Will Continue Into 2022
As the year passes, your labeling will need to be refreshed. Let's look at some of the present and future major labeling trends-
GS1 Data Matrix Barcode
Labeling food products is one of the major trends in society. GS1 DataMatrix barcodes are widely used to label hygienic food items such as vegetables, seafood, bread, fruits, nuts, seeds, etc.
Print Less Labels
It is necessary to print a small number of standardized barcode labels. Manufacturers' operations are very time-sensitive, and they can't wait for huge numbers of personalized labels.
E-Labeling
Physical labeling does not always deliver the level of interaction that today's consumers demand in the market. To satisfy this particular need, e-labeling is a wonderful option.
E-Commerce
In this Covid-19 pandemic, a huge number of customers are moving towards e-commerce rapidly. Their demand for door-to-door delivery is increasing day by day, and product labeling must preserve.
Mechanization
Product Labeling is becoming automated in this post-pandemic environment for the worker's health and safety. It also increases the sales, growth, and productivity of business organizations.
Limit barcode expansion
The rapid increase in barcode labels leads the confusion between customers and the supply chain. So, manufacturers should stop the use of multiple barcode labels on a single product.
In the above article, you see different latest trends regarding the labeling that should we expect to see in 2022. In this era of competition, every business organization has to follow the latest labeling trends to reach newer heights.