The library has evolved into one of life's most important parts. Every college and institution uses the library to manage all book-related operations, such as stocking and circulation. In the age of ICT (Information and Communication Technology), libraries and information centres require new tools that will enable them to boost efficiency and enhancing customer service without employing more personnel. We can see how technology has taken over and aided the library in a variety of ways. The use of barcode technology speeds up the distribution and inspection of books, resulting in increased production and a better customer experience.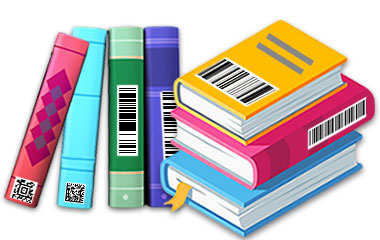 Difficulties in the manual library system:
After the books are handed over to a student, it is difficult to trace and detect them.
Giving the book a reservation number or a tracking id is a challenging task.
It is difficult to offer a clearance certificate to a certain reader because the counter assistant must check the borrower's record and other documentation to determine whether or not a particular book is pending against the borrower.
The stamping of the due/return date, as well as the process of creating additional entries, takes time while charging and discharging books.
Usage of barcode technology in different library operations
In libraries, barcodes are used to identify books or periodicals. Every book and other object have a 12-digit barcode allocated to it. It provides all of the product's details. When a student returns or issues a book, the Library Management system retrieves the bar code number so that we may enter the book into the computer in a systematic manner. A library management system aids in the organisation of books. The use of barcode technology in library circulation systems is extremely effective because to its speed, precision, and dependability.
When a library obtains a new book it has to be given a serial number which is called accession number. Information about the book such as title, author, subject etc. has been recorded after assigning the number. Barcode usually matching with the number is created. Afterwards, Barcode labels are printed and pasted at the specified place on the books. Entered bibliographic data helps in identification of book through Barcode. In almost all library automation software, two options are available viz. system-generated Barcode or user-defined.
We all obviously understand that access to libraries is limited to staff only. As a result, a gateman or security guard is assigned to the library's entrance gate to check the identity documents of all visitors. This screening becomes much easier if the members are given bar-coded identity cards. At the library's entrance, a barcode scanner has been placed, and everyone entering the building must scan their identification card. The person will not be allowed to enter the library if he or she is not a library member.
The entrance and leaving times of a user or member may also be tracked using barcodes in a library. At the library's entrance, one barcode scanner must be installed. When a user visits the library, they must scan the Barcode on their library membership card, which will automatically collect their presence and save it to an excel file.
When a member quits the organisation and his or her registration is discontinued, the library does not give a dues certificate. In a traditional process, this procedure takes a long time and is prone to errors. The member submitted his or her identity card to be scanned by the counter workers in a computerised system employing Barcode technology. The automated programme will look through the database for any documents that have been issued in his or her name. There will be no dues certificate produced if there are no dues.
The librarians can use barcodes to track the distribution of all books and learning resources. The primary reason for using barcodes in libraries is to facilitate the circulation of library materials. The book or study material's accession number must be translated to a Barcode and put into the book or magazine. Staff at the circulation department of the library can quickly scan the barcode and issue/return the book to users in a timely manner, while also ensuring that the transaction is error-free.
The typical method of stock verification is Library workers travelling around to each stock location and noting all accessible volumes. To determine the ultimate stock position, this tabulated data is combined with previously released books. This procedure demands a great deal of mental effort and time. Barcode technologies are employed efficiently here, and the process is faster and error-free. All of the library's documents are scanned, and data is collected on a hand-held terminal. The data is downloaded to the host machine when it is nearly full. When all of the papers in the library have been scanned, they are compared to the whole document database.
Use of Barcode application in library
Publishers and libraries may use Barcode Generator software to design and print barcode stamps or stickers to put on magazines and books. The barcode creator programme in the library allows users to produce bulk barcodes by entering data from an Excel or Text file and printing them in large quantities on A4 paper sheets. Barcodes of high quality may be readily placed on books and scanned with any barcode scanner. Any library may simply install and maintain software with numerous barcode symbologies to access their stock, circulation, attendance, and staff identification, among other things. Use a barcode maker to track book and magazine sales to make the publishing industry more convenient and advanced.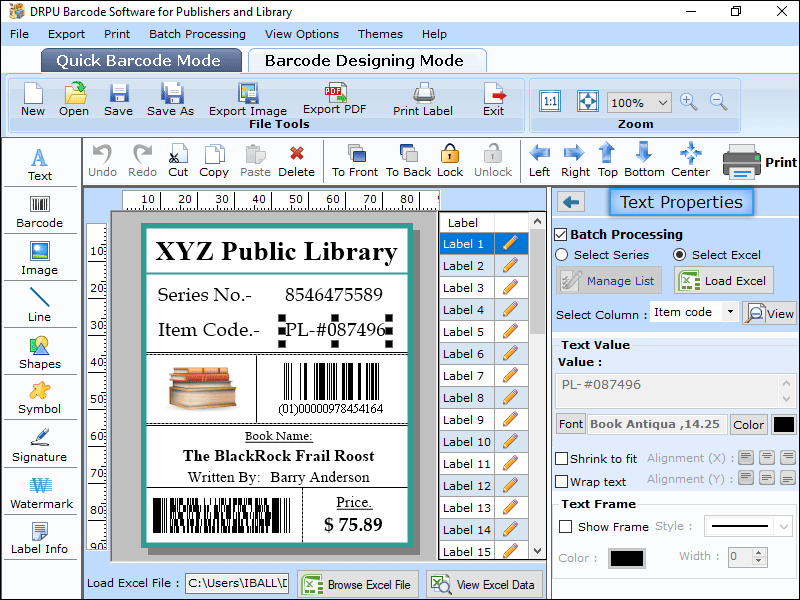 Advantages of Barcode in library:
1

Human mistakes are reduced: In the library's circulation area, barcodes reduce the chance of human mistake.

2

Designing and printing barcodes is inexpensive: Regardless of their purpose or where they will be placed, they usually cost only a few pence.

3

Versatility of Barcode: Barcodes are incredibly adaptable, and they may be utilised in the library for any type of data collecting.

4

Enhance Library functions: Because barcodes allow for such exact tracking of library materials, stock management improves.

5

Data gathered by barcodes is readily available: Because the data is scanned straight into the server, it is available virtually instantly.

6

Barcodes help people make better judgments: Data can be acquired quickly and precisely, allowing them to make more educated decisions. Better decision-making, saves time and money in the long run.