Birthday card maker software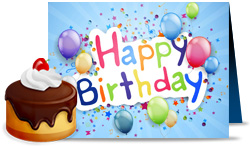 Birthday card maker software reveals the secrets to create homemade birthday cards having customized look and features that will really be admired by the one gifted to. Choose your favorite pictures, append them combined with a text or personal message composed in your own words, to the birthday card and give the card a shape of your creativity. Software is devised with font, color and image settings that offer users the flexibility to choose among varied options to design the birthday card into the form one wants.

Software Features:
Provides option to save the created birthday card at a specific location for further reference.
Offers flexibility to either create a fresh birthday card or modify an existing one.
Multiple birthday cards can be created instantly to send to bulk numbers of users at the same time.
Advanced print settings offers wide range of printing options.
Colorful birthday cards can be created by aid of the advance color settings.
Photo, text, graphics adding features builds custom-style of birthday cards.
Image designing objects like pencil, text, line, picture, rectangle, ellipse etc helps to create premium quality birthday cards.
Mac Users Click here for ID Card Designing Software for Mac