ID card maker software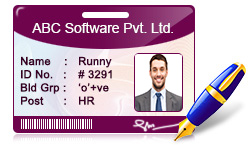 Let your imagination this time assist you in designing ID cards, ID badges relevant to the type of business or personal needs. ID card maker software will give you an opportunity to fabricate your own personal identification card like student photo ID cards, faculty ID cards, corporate ID cards, employee ID badges or cards, company ID cards, security ID cards etc of preferred look and features.

ID card maker software (or name card maker) presents latest technology image designing tools like Pencil, Text, Line, Pictures, Barcode, Ellipse, Rectangle, Circle etc to create student i-card and print ID cards by all common printers. According to the business needs, ID card software provides series ID card generating options to fabricate desired numbers of ID cards by just changing the text and barcode value. Now edit an existing ID card as per your wish or create one from scratch by utilizing the advanced creative platform of the ID cards maker product having GUI enabled interface.
Software Features:
Enhanced graphic capabilities: Advance image designing objects like Pencil, Text, Line, Picture, Barcode, Arc, Star etc assists in building superb, customized ID cards, badges, labels etc.
Customizable options: There are options by which you can add photo, change text as per your wish, logos, graphics, clip arts, etc to your ID card.
Flexible print facilities: Create your own ID card and use customizable print settings to print ID cards, etc in an organized way.
Adjustable layout options: Create cards instantly by just editing an existing layout or creating one from scratch in your own customized way.
Builds cards of all sizes: Rectangle, Rounded Rectangle and Ellipse etc will build cards of diverse shapes as per your wish.
Easy to use and install:

Any category of user can easily create cards of his choice within no time.
No expert guidance is required to use the product.
Product is easy to be installed and no additional software configurations required for running the software.
Mac Users Click here for ID Card Designing Software for Mac