What is QR code?
Quick Response is abbreviated as QR. It is also known as two-dimensional code. It has a pattern of black squares set on a white background in a square grid. While a vertical barcode can only hold a limited amount of information, a QR code can store information both vertically and horizontally, allowing it to store a more complicated combination of information than a standard barcode.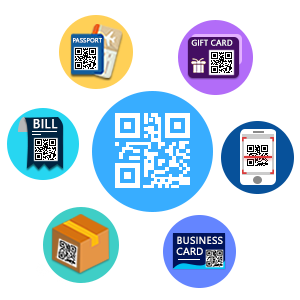 QR codes are used in many different applications. These services include commercial tracking, entertainment and transportation tickets, product and loyalty marketing, and in-store product labeling.
Earlier, scanning a QR code required a specific reader, but now we can do it using smartphone apps or simply a phone camera with a QR code scanner. The QR code's simplicity of use and post-pandemic quantum shifts in social and daily life have contributed to its increased adoption.Each QR code's layout changes based upon the information it contains, and this affects the layout of its black modules.
QR codes have a capacity of around 7,000 numbers or 4,000 characters to store, including punctuation and special characters.It can also protect information like phone numbers and web addresses. If you've ever scanned a QR code for payment using an app like Google Pay, PhonePe, or Paytm, or for any other reason, you're already aware of how responsive they are and take less than 30 seconds to execute a secure payment.
Two Types of QR Codes are
Static QR Code
Static QR codes are only good for one use. Without an external URL or data location, the content is directly embedded, as in copied into the code. The information is static (fixed) once the code is generated, and it cannot be changed. They are more suitable to personal use or one-time use.
Dynamic QR Code
Dynamic QR codes are perfect for marketing since they are adaptable, traceable, and measurable. The codes generate a short URL with the actual content. As a result, once a dynamic code has been generated, the URL information can be changed, edited, and updated at any time.
What are the parts of a QR code?
A QR code is made up of 5 components:
1. Quiet Zone-
A QR code's outer white border is blank. Without this border, a QR reader will have no way of knowing what is and isn't inside the QR code (due to interference from outside elements).
2. Find-pattern -
Three black squares are commonly found in the bottom left, top left, and top right corners of QR codes. These squares indicate that a QR reader is looking at a QR code and indicate the code's outside borders.
3. Alignment-pattern -
A smaller square is hidden in the bottom right corner. It ensures that the QR code may be read at any angle or distorted.
4. Timing-pattern -
A L-shaped line runs between the three squares in the finder pattern. The timing pattern helps the reader identify specific squares within the full code and allows the reader to interpret a broken QR code.
5. Data cell -
The rest of the QR code communicates the actual data, such as the URL, phone number, or message.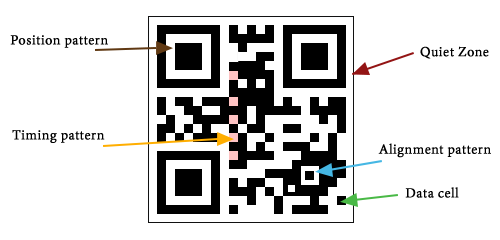 QR Code Components
How do QR codes work?
In general, a QR code functions similarly to a supermarket barcode. It's a machine-readable image that can be read instantly with a Smartphone camera or a scanner. A QR code is made up of a series of black squares and dots that represent various kinds of data. When your Smartphone or scanner scans this code, it converts the information into something that humans can understand.
A QR code is simply a piece of data that has been encoded. A QR code can include alphabetic, numeric,binary, or Kanji data.
Although that is the technical explanation for how a QR code works, the fact that QR codes can be scanned at the touch of a button by the hundreds of millions of people who use a Smartphone on a daily basis is far more essential.
If you've ever scanned a QR code with your Smartphone, you've probably noticed that they can be scanned quite quickly (we're talking seconds here). As a result, QR codes provide a quick and easy way to access stored information, making them an ideal solution for transformation businesses.
WHAT IS THE PURPOSE OF QR CODES?
QR codes can be used in a variety of ways in your business, including on business cards, event promotion, and even bills. Consider the following examples:
Business Cards -
You may give your customers more than just a "regular" business card if you include a QR code. You can include more than just your basic information with QR codes because they can contain more than just data. You can include photographs as well as links to your website, blog, and social media accounts. After a quick scan, they can save all of your information to their contacts.
Inventory Management -
QR codes, like other 2D barcodes, can be useful for tracking more than simply product names and prices in manufacturing and inventory management. Serial numbers, part numbers, lot information, dates, and a variety of other data elements can all be included in QR codes. With these capabilities, the QR code becomes a simple solution for stock management software.
Events and Advertisements -
When employing QR codes for events or advertising, you can direct the barcode scanner to a virtual reproduction of your event or campaign. E-tickets, directions, maps, money-off vouchers, and other relevant information can all be included. As part of a campaign to reduce waste, many event organizers are employing QR code e-tickets. The easy approach lowers the risk of losing a physical ticket because everything is likely to be backed up online.
Ordering -
As a result of the Corona virus pandemic, several restaurants, pubs, and bars have implemented a new type of ordering system to restrict the amount of consumer contact. These businesses have implemented QR codes to help with ordering. Customers can just scan a QR code with their phones to be directed to a website or app where they can order drinks and food without having to interact with personnel. During the pandemic, QR codes for this application were a big success.
Invoices and Business Stationery -
Assume you include a QR code on your stationery or invoices that directs customers to your customer support website. You can then provide far more detailed and helpful information, such as contact information, user instructions, returns labels, and so on.