Create 1D and 2D barcode in MAC with ease
Mac Barcode fonts are widely used in different industrial areas like stores, warehouses, hospitals, mails, packages, etc and can be generated with Mac systems easily. They can streamline and automate the process of your business. You can keep tracking your product with macOS X barcode technology until it reaches the customer. Customers should always be the main priority for the manufacturers, distributors, and retailers. The barcode helps consumers to self-checkout from any retail store.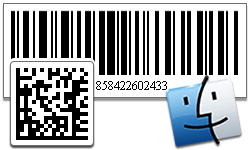 While developing or producing any product, manufacturers always use barcodes on parts to uniquely identify them with Mac barcode systems. Seamless transaction of goods or products from the manufacturer's side is always a key factor for retailers to grow productivity and increase revenue. Apple barcodes are the best tool to grow any retail business. With a Mac system, you can easily create your barcode labels, tags, and stickers to print them on packages with ease.
Types of MacOS X Barcode Fonts:
Most processes are now automated thanks to barcodes. The linear and 2D barcode you encounter every day is not the same; companies use several kinds of Mac barcodes with various symbologies and capabilities in accordance with their requirements. The retail industry uses barcodes with 12 or 13 numbers, such as UPC-A (12 digits) and EAN-13 (13 digits), to uniquely identify each product. The marketing campaigns utilize QR codes by encoding a website link or other information. Distribution industries always utilise a code 128 barcode, that can be generated with Macintosh systems to keep track of packed goods. This particular sort of barcode may simply be read and sent data, and it can encode all ASCII (American Standard Code for Information Interchange) characters. There are other barcode kinds that are often utilised by various businesses. Check them out all by clicking Here.
Main reason for creating Barcode:
Drive Efficiency and Increase Productivity

Optimize Inventory Management

Gain Profitability and Reduce Cost

Improve Quality Control and Customer Satisfaction
Tips for creating efficient barcodes on a Mac:
A barcode must be registered and acquired through systems before it can be used. Global Standard 1, or GS1, is a non-profit organisation that distributes and registers barcodes globally. They support supply chain standards, guarantee that crucial procedures go without a glitch, and offer real-time updates for items. Companies will be given a unique barcode identification number by GS1, which designates a broad or narrow product category.
Give your trade objects (goods or services), places, and other things identifying numbers. Utilize Apple Barcode Generator Software to begin producing barcodes.
Depending on the information included, choose a traditional, digital, or hybrid printing method for barcodes, such as static (always the same), or dynamic printing (all or part changing).
Where will the barcodes be scanned? You must enable multi-directional scanning at the retail point-of-sale, and if it is scanned in the warehouse as well, you must print in a bigger size.
Select a barcode EAN/UPC symbols, 2D symbol, etc. according to the requirements.
Choose a barcode size, text colour, and text shade when creating your barcode: The size is determined by the data encoded in barcode, the location where it will be used, and the printing method. The text that appears underneath a barcode called Human Readable Interpretation (HRI) it serves as a fallback to record the data when a barcode is destroyed.
Although black bars on a white backdrop are the ideal colour scheme, various colour schemes are acceptable.
Select the barcode's location: Consider where on your goods the finest symbol should be placed.
Create barcode in MAC with ease:
A barcode label can organise and monitor products in an inventory. These labels are utilised in a variety of industries to streamline and improve every aspect of their operations. Apple systems are used in a variety of industrial areas such as printing and marketing sectors. Barcode tags or stickers may be designed and printed on Macintosh. By using this Barcode Software, businesses may generate multiple barcode stickers and labels on the Mac system.
Create barcode with Mac barcode generator software
Barcodes are simple to produce and print with Mac Barcode Generator Software. Apple program offers a variety of barcode fonts with various data encoding capacities and sizes. All you have to do is choose the kind of barcode font, input the barcode data, select the size and colour, and then click the print or export option. Now your barcode sticker is created and ready to apply on products or packages.
Two different modes for barcode creation:
Mac Barcode Label Maker software allows users to create multiple 1D and 2D barcodes in "Quick Barcode Mode" with the help of the Batch Processing Series option. Users can import data from Excel sheets and txt files into the Data Sheet panel of software or can create a series of Data Sheets and generate barcodes for their businesses. The software can be utilized by different enterprises in different modules.
Using Mac software's "Barcode Designing view Mode", you may create expert barcode labels. The software offers label settings, such as label size, background color, and border, and allows you to alter the shape of your barcode label into a rectangle or rounded rectangle. You may modify the barcode properties by double-clicking on the barcode. The built-in Print Setting option of Apple Barcode Maker is so advanced, that it prints multiple barcodes at once on a single sheet of paper, allowing you to customize width, height, margins, and other settings while printing. Businesses can create and send barcode tags with help of the mailing option.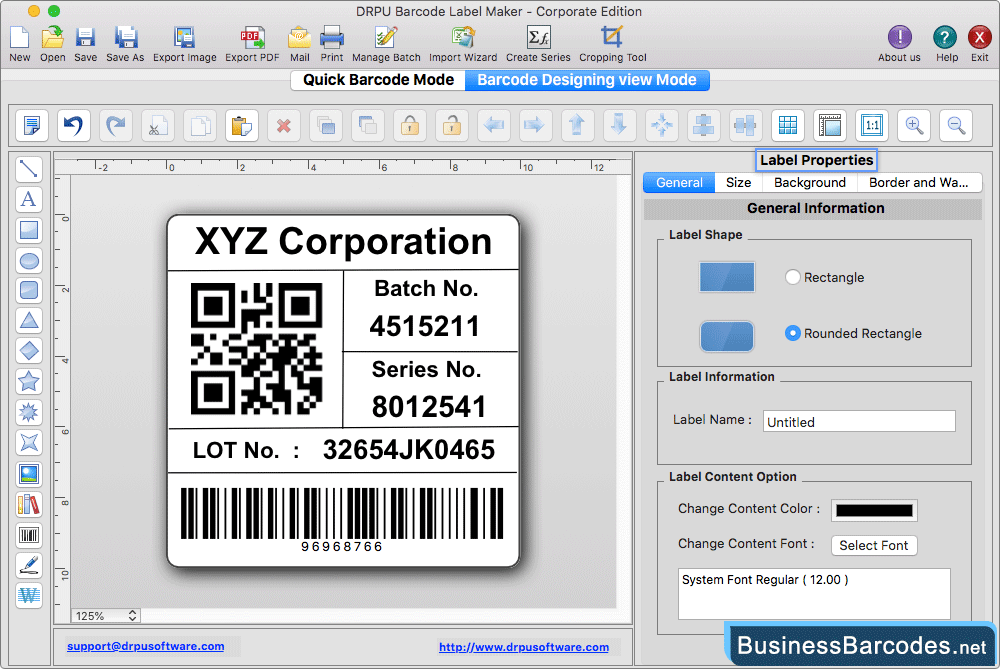 Why use barcode software
Software instructs a computer to print particular symbologies into a particular pattern and produce a unique barcode. The program must be able to handle a large quantity of data and produce several barcode stickers at once if there is a lot of inventory. Users will thus want to choose barcode software that is compatible with their particular company requirements.