Is Barcode A New Language for Ecommerce?
Barcode is a powerful technology that is used in almost every online retail business. It offers multiple advantages to the e-commerce businesses like better inventory management, accurate product deliveries, etc. It simplifies the order fulfillment process and pushes your online business to the next level.
Components of Barcode used in E-Business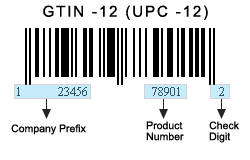 Generally, there are two components of a barcode used in e-business, UPC and GTIN. A UPC barcode stores the GTIN which is basically used to identify and track the products. GTIN stands for Global Trade Item Numbers. It is a sequence of numbers that are present under the UPC barcode's bars and spaces and it is different for each product. It is divided into two different parts, company prefix, and product number. A company prefix is a unique number that is assigned to your e-commerce company by a not-for-profit organization named GS1. This number is used to identify the brand owner.
When are Barcodes used in Online Retailing?
E-Commerce Business uses barcodes for better tracking and fulfillment. The following points describe when and where the barcodes are used in online retailing.
01

Collecting Inventories in the Fulfillment center

Professionals must ensure that they have obtained the correct items while receiving inventory goods at fulfillment centers. They also determine whether the inventories came from parcel shipments or cargo shipments by scanning the barcode labels attached on the package.

02

Sending Packed Orders to Courier Firms

The E-Commerce company prints and attaches a barcode to the package when the order is placed and ready to ship. They send the package to courier firms and the carrier scans the barcode before leaving the fulfillment center to verify accurate records of the shipment.

03

Collecting Return Orders from Customers

When a consumer returns a product directly to the third party logistics then, they scan the barcode label before receiving the order to ensure that the item returned matches with the item ordered. The customer's refund is started after the product has been received and scanned.
Different Ways to Use Barcodes in Online Business
Social Media

E-Commerce firm requires a large number of followers on its social media pages to enhance brand power and become well-known in the online market. QR codes make it easier for people to access all of your profiles rather than searching for each one individually on the websites.

Boost App Download

QR codes can be used by e-commerce businesses to drive customers to the app marketplaces in order to promote their mobile apps. The primary advantage of this use case is that users don't have to look throughout your application on the play store separately.

Offer Discounts

You can invite customers to scan the QR code and gain discounts on their purchases by placing a QR code that links to the play store, the app store, or your social network profiles. This helps you to make better customer engagement that results into business success.

Increase Website Traffic

You can increase traffic on your website by including a QR code on printed media. By offering direct links to newspapers, customers feel so tedious by manually typing website link. But, it becomes very simple for them to browse your website by scanning a QR code.
Benefits of barcodes in E-Commerce
There are some following ways that prove why barcodes are so beneficial for the e-commerce business.
Faster Order Processing

Once your online business is expanding on a daily basis, then it is very difficult to manage a large number of orders without the use of barcode technology. Barcodes process your orders in a fast way and give your better tracking results.

Give Real-Time Information

In fulfillment centers, there is a huge quantity of data is present. The majority of information is written on paper, making it harder to evaluate. Shipping barcodes can give you real-time data and information about the logistic functions.

Less Training Time

When compared to complex manual written procedures, barcode technology is simple to understand and takes only a few minutes to master. It eliminates the unnecessary time taken by the workers to understand the manualy written process.

Enhance Productivity

Manual inventory counts are prone to human mistakes. Barcodes allow you to keep track of every product in all locations at any time. Your online business will be more productive, and inventory will be better organized by using the barcodes.

Meet Customer Expectations

During online purchasing, every customer expects that they should receive the right product at the correct time. With the help of barcoding technique, retailers ensure that they deliver the accurate product to the right customer.

Minimize Errors

A lot of errors can be made while entering essential inventory-related information by hand. Barcode technology offers the ability to minimize manual data entry errors and accelerate data gathering speed during the delivery processes.