Business Barcodes - Mac Standard Edition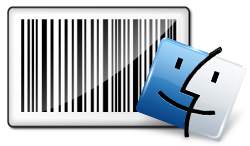 On Apple Mac OS PCs, Business Barcodes - Mac Standard Edition is intended to make ready-to-print barcode labels. The user may quickly construct scanable and legible barcode labels, stickers, or asset tags with Barcode label maker software.
Code 128, Code 128 SET A, Code 128 SET B, Code 128 SET C, Codabar, EAN-13, EAN-8, Extended Code 39, Industrial 2 of 5, Modified Plessey, PostNet, Planet, UPCA, QR Code, PDF417, and DataMatrix are among the major Linear and 2D barcode fonts supported by Mac OS X business barcode software. Business Barcode software creates a large number of barcode labels at once, with the possibility of printing multiple barcode labels at once. Barcode labels are used to quickly obtain correct item information and facilitate low-cost product rearrangement.
Business Barcodes - Mac Standard Edition Features
Barcode software creates barcode labels using Linear and 2d barcode font standards.
Barcode system is attached with a scanning ability which helps to easily access business product details accurately.
Flexible print settings offer wide range of printing facilities.
Print preview functionality allows you to preview designed barcode labels.
Software generates multiple barcode lists by aid of Sequential, Constant and Random series generating functions.
Software runs efficiently on all major Mac installed machines.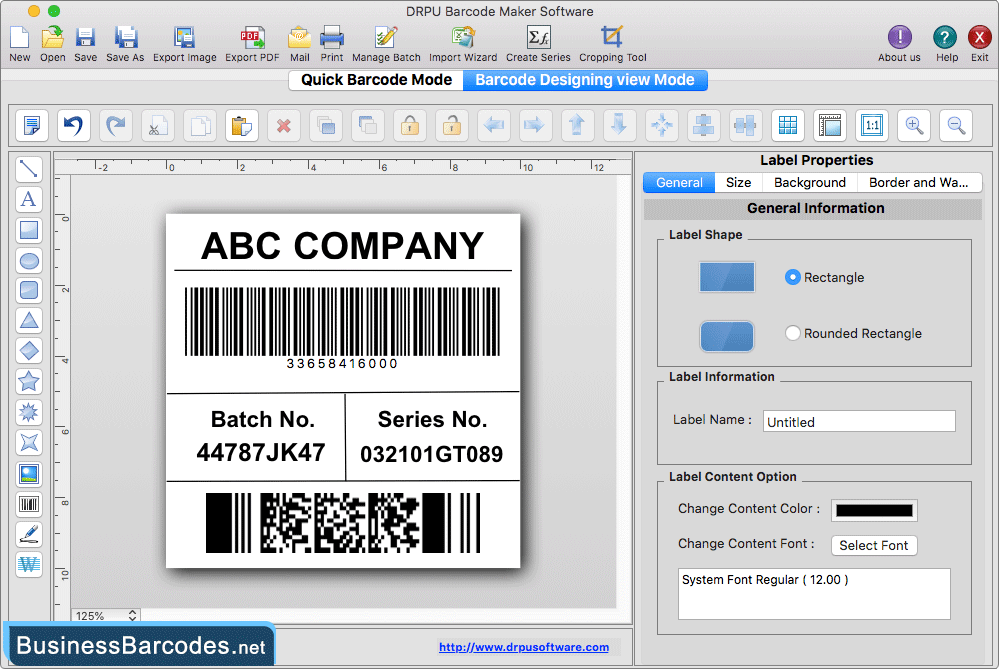 Software Supported Fonts
Codabar Barcode, Code 11 Barcode, Code 128 Barcode, Code 128 SET A Barcode, Code 128 SET B Barcode, Code 128 SET C Barcode, Code 39 Barcode, Code 93 Barcode, Code 39 Full ASCII Barcode, EAN13 Barcode, EAN8 Barcode, Industrial 2 of 5 Barcode, Interleaved 2 of 5 Barcode, ISBN 13 Barcode, ITF-14 Barcode, LOGMARS Barcode, MSI Plessey Barcode, Planet Barcode, Postnet Barcode, Standard 2 of 5 Barcode, UPCE Barcode, UPCA Barcode, USPS Tray Label Barcode, USPS Sack Label Barcode, Telepen Barcode, USS-93 Barcode, UCC/EAN-128 Barcode
Aztec 2d Barcode, Databar 2d Barcode, Databar Code 128 2d Barcode, Databar Code 128 Set A 2d Barcode, Databar Code 128 Set B 2d Barcode, Databar Code 128 Set C 2d Barcode, Databar Expanded 2d Barcode, Databar Limited 2d Barcode, Databar Stacked 2d Barcode, Databar Stacked Omni 2d Barcode, Databar Truncated 2d Barcode, Databar EAN 13 2d Barcode, Databar EAN 8 2d Barcode, Databar MicroPDF417 2d Barcode, Databar PDF417 2d Barcode, Databar UPCA 2d Barcode, Databar UPCE 2d Barcode, DataMatrix 2d Barcode, MaxiCode 2d Barcode, PDF417 2d Barcode, QR Code 2d Barcode, MICR 2d Barcode