How to Choose the Correct Label for Your Application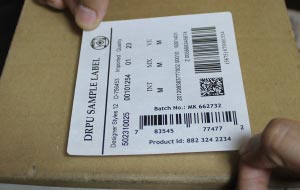 Barcodes come in a variety of shapes and sizes, each with its own set of advantages and disadvantages. It will be challenging to choose which barcodes will work best with your Application from such a large number of barcodes. Most importantly, barcodes can help your company with the highest level of efficiency and profitability.
We're proud to assist agencies in maximizing the benefits of barcode technology here at Company. Let's look at some important 1D and 2D barcode kinds for Users to assist you find the best solution for your team when it comes to choosing the Right barcode types. We'll highlight the most common applications for each barcode type.
5 Things to Keep in Mind When Choosing the Right Barcode Label-
📦Shape- It is one of the most important elements to consider when selecting a barcode label. Rectangle, rounded rectangular, and ellipse barcode label shapes are the best barcode label shapes, so put the barcode labels in an obvious and unobstructed location where the employees can see them easily.
📏Size- One of the most crucial variables to consider is the label's dimensions, but it's also important to examine the size if you want to optimize your savings. Many products have small labels, but they should not be too small because they are difficult to scan. Although the size of barcode labels varies from product to product and company to firm, it is critical to determine the optimal label size.
⭐Follow Specified Barcode Standards- You may need to check that your barcodes are approved by other companies along the supply chain in some circumstances. Maybe even the entire world. This implies that the print quality, bar height, colour, and backdrop of your barcode, as well as its placement on the label or container, must all comply with specified guidelines.
🎨Color- The standard color combination for bar-coding is a black barcode printed on a white label because it is easy for scanners to read. However, some industries allow you to create colorful labels, which compromise the readability of barcode labels.
🖨️Print High Contrast Barcode- Scanning high-contrast prints is easy. Light-colored barcodes should be avoided on light-colored backgrounds, and dark barcodes should be avoided on dark backgrounds. Certain color combinations of barcodes are also extremely undesirable (e.g. red on white or black on blue). A black barcode on a white, non-transparent background provides the best contrast.
Create Right Labels For Barcode Using Barcode Software
Business Barcode Maker Software is user-friendly and simple to use, allowing users to create printable, custom, and scannable barcode labels, stickers, or asset tags using a variety of barcode fonts including Databar, Databar EAN 13 code, ISBN 13, PDF417, DataMatrix, QR Code, MICR code, and many others. This software generates barcode labels in a variety of sizes, bar widths, densities, and heights, as well as allowing you to personalise your labels with a logo, design, and colour scheme. Using the Sequential, Random, and Constant List Generating methods, this software allows you to create barcode labels in bulk. You may also use the software to produce barcodes from Excel sheets that contain barcode values.
Barcode Types: How to Select the Correct Barcode Label for Your Application
Code-128 Barcode-
In the logistics and transportation industries, Code 128 barcodes are utilized for ordering and distribution. All characters in the American Standard Code for Information Interchange 128 list will be encoded. These barcodes can hold a large amount of linear data, making them suitable for determining the contents of transported or packed containers and items.
Industry: Logistics
Code-39 Barcode-
Barcodes with the code 39 are used to label products in a variety of businesses, including the automotive industry and the United States Department of Defense. It allows for the use of all digits and characters. It's only capable of encoding 39 characters. Code39 is still a popular and adaptable option because it eliminates the need for a check digit and can be read by almost any barcode reader.
Industry: Automotive and Defense
Code-93 Barcode-
The Code 93 barcode, which can read both letters and numbers, is an upgraded, more secure, and compact version of the Code 39 barcode. Because of the additional characters in Code 93, it is a more compact and safe alternative to Code 39. Its tiny size and data redundancy make it suitable for usage in a variety of industries, including automotive, retail, and logistics.
Industry: Manufacturing
UPC Barcode-
A UPC, or universal product code, is a form of code that is printed on retail product packaging to assist in the identification of a specific item. It consists of two parts: a machine-readable barcode comprised of a series of distinct black bars, and a 12-digit number below it.
Industry: Retail
Codabar Barcode-
Codabar barcodes are used by logistics and healthcare professionals, as well as picture studios and libraries. It's easy to print them. Codabar can encode up to 16 characters, including four start and stop characters. Codabar barcodes provide several advantages, including easy scanning and self-checking, which decreases errors once the code is entered.
Industry: Healthcare and Education
QR Code Barcode-
QR codes are most commonly used in tracking and advertising campaigns, such as ads, publications, and business cards. Even though they can't be examined with a laser scanner, they're adaptable, have a high fault tolerance, and are easy to read. They can be scanned on almost any system that has scanning capability, and they can encode almost any type of data.
Industry: Entertainment and Advertising
PDF417 Barcode-
Images, fingerprints, and signatures are all examples of functions that require significant amounts of data to be stored in PDF417 codes. They'll store more than 1.1 KB of machine-readable data, making them far more useful than traditional 2d barcodes.
Industry: Government
Aztec Barcode-
The transportation industry frequently use Aztec codes, particularly for tickets and airline boarding permits. Even if the barcodes are of poor quality, they can be read, which is useful when tickets are printed poorly or presented on a phone. They can also save space because they don't require a blank "quiet zone" around them, unlike certain other 2D barcode types.
Industry: Transportation