Can EAN13 Symbol Starts with a Leading Zero?
Introduction of EAN 13 Barcode Symbol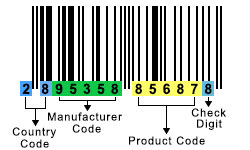 EAN 13 (stands for European Article Number) Barcode is the most common linear barcode symbology that is developed by International Article Number Association (EAN) in Europe in the 1970s. Global Trade uses the EAN 13 barcode technology to identify a particular product at the retail POS (point-of-sale). The number 13 present in the name indicates that this barcode can encode a total of 13 digits (in which 12 are numerical digits and 1 is a check digit). These 13 digits are basically called Global Trade Item Numbers (GTIN) of the GS1 organization. It is mainly an extensive version of UPCA codes that is easily read by Omni-directional scanners. Other than retail, it can also be used for accounting or wholesale ordering.
Breakdown of EAN 13 Barcodes
EAN 13 Barcode is normally broken down into four different sections as mentioned below-
Country Code

The starting 2 or 3 digits of the EAN 13 barcode symbol represent the country code or a GS1 prefix that is generally linked to a particular country.

Manufacturer Code

The next 4 or 5 digits represent the manufacturer of the product. This code is given to each manufacturer by the numbering authority denoted by GS1 Prefix. The same manufacturer code will be used on all items created by a specific company.

Product Code

The next 5 digits represent the product code which is given by the manufacturer. It is basically used to recognize a product. The different products made by the same company have different product item codes.

Check Digit

The last single digit represents the check digit which is used to ensure that the barcode is created or scanned accurately. It is determined according to the remaining barcode digits.
Advantages of EAN 13 Barcode Symbols
EAN 13 barcodes are well-known, identifiable, and helpful for typical everyday retail transactions.
EAN 13 is a high-density barcode symbology that can store a huge quantity of information in a compact space.
The information decoding of EAN 13 barcodes doesn't require the use of complex scanning equipment.
The checksum digit worked as a self-checking system for the barcode.
These barcodes are perfectly appropriate for quickly moving objects on automatic machines.
The EAN 13 barcode is relatively simple to decode, and even a scanner can read the data when placed at 45 degrees angle to the barcode's surface.
Limitations of EAN 13 Barcode Symbols
EAN 13 barcode has an extremely low tolerance for damage and distortion, like other linear barcodes, and cannot be scanned in those situations.
The EAN-13 barcode's character limit restricts its range of applications. It is ideal for use in a regular supermarket, but it is unable to recognize more complicated products.
It cannot encode alphabets and other special characters; only numerical data can be encoded.
Can EAN 13 Barcode Symbol Starts with a Leading Zero?
The basic answer to this question is simply yes, it is possible that the EAN 13 barcode symbol can starts with a leading zero because the starting 2 or 3 digits of the EAN 13 barcode represent the country code that ranges from 00(0) to 99(9). For e.g. 000-019 is used for USA and Canada, 400-440 is used for Germany, 450-459 is used for Japan, etc.
EAN 13 is basically the superset of the UPC-A barcodes. The number system code is the only difference between EAN 13 and UPCA barcode (UPC-A has 1 digit number system code, whereas EAN 13 has a 2 or 3-digit number system code). EAN permits UPC-A codes to be enlarged by data processing devices with a zero in front, making the UPC-A and EAN13 identical in length on the 13-digit EAN-based host systems but not in the bar code. This allows UPC-A codes to operate globally on the system. There are EAN 13 barcode readers that take 13-digit codes with a leading zero but instead produce a UPC-A barcode symbol with the human-readable 13 digits. Although these codes look to be an EAN 13, a bar code scanner will identify it as UPC-A and display 12 characters by default.